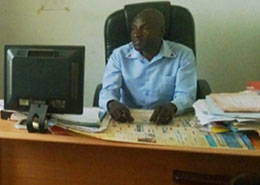 Mr. Ebu John Michael Community Development Officer (CDO) of Lumino sub county, Busia District
Lumino Sub County is in the southern part of Busia, 20km from the district headquarters. It consist of four parishes and thirty seven villages, and Its population majority are women.
When the Disability sports project was introduced in Lumino, it came with a number of experiences. First, it was my first time to know about disability sport, secondly its love by Persons with disabilities in Lumino then its major pillar of membership mobilization which as a sub county fulfilled a total of over 50 members that has been brought together as a result of the sport project. While the quarterly coaches meetings brought all the sub county CDOs in one place, made me to learn a lot from other sub counties on the best practices of implementing sport activities.
This enabled me to always support Lumino PWDs sport groups. The sport project came handy and played very significant role to the PWD in Lumino which includes:-
Community awareness, where Lumino got to know about PWDs sports and will always accord support it deserves since plays a role of building self-esteem of PWDs and physical fitness.
It brought PWDs together through playing the different sports disciplines, got closure to each other and in the same way, shared problems and solutions.
We got to know about other physical disabilities like spinal Injury and Acquired brain Injury
Group formation, Lumino PWDs sport group was formed as an organization that will bring together all mobilized PWDs doing sport. Coming up with the group idea was very positive because it helps us as a sub county to easily allocate members for any support
Exposure and saving culture promoted, through sport activities, as members are able to save according to their earning. This is a very great activities that as a sub county, we shall continue encouraging Lumino, we will forever be grateful to UNAPD and partners for bringing such an initiative and we pledge to carry on with the legacy