There is always ability in disability, disability sports is one of the strategies to prove
the abilities of PWDs to actively participate in the recreation activities like Sports.
Disability Sport


Access to education is a strong foundation for empowerment of a disabled child/PWDs to compete favorably in the social, economic & political
opportunities at different levels. It's our responsibility to embrace Inclusive education as a strategy to reduce the poverty line among PWDs in Uganda.
Inclusive Education


Access to Inclusive livelihoods is a key parameter for sustained independent living of PWDs in society, the mainstream
livelihood players should not look at PWDs as end users but as stakeholders to ensure inclusive livelihoods for all.
Empowerment

"Physical access to public buildings is an entry point of PWD's enjoyment of their rights to equal access for social services like education, health, employment, etc & for independent living of PWDs to actively participate in the decision making process of development" let's embrace Inclusive Designs in the construction industry in Uganda.
Accessibility


The untold story in the health life of PWDs is whether PWDs equally access the basic SRH services as their rights…..Relevant stakeholders
in the health sector should endeavor that PWDs especially Girls & women with disabilities are integrated in the health service delivery system
Sexual Reproductive Health Rights
The Uganda National Action on Physical Disability (UNAPD)
UNAPD was established in 1998 to serve as a platform for voicing concerns of Persons With Physical Disabilities (PWPDs) so as to realize a barrier free environment and thus enable them enjoy their rights to the fullest. Currently UNAPD has 38 registered Member District Associations with over 7000 individual members. UNAPD is an active member of the disability movement in Uganda and an effective vehicle in articulating issues and concerns of PWPDs within the general civil society and country at large.
What We Do
One of the key considerations that articulates our strategic intent as an apex body, is the determination to fully evolve into a fit-for-purpose organization. UNAPD is deliberately focused on strategic, national-level activities whose local-level operations are implemented by and through her members, supported by UNAPD secretariat. This plan significantly amplifies existing efforts to better engage members in achieving our vision for a dignified life for all Persons With Physical Disabilities.
Testimonies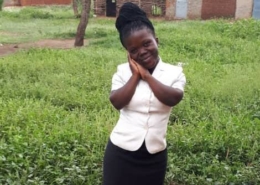 January 10, 2021
I am Muhumbira Dina, a lady living with dwarfism which most of you know as…