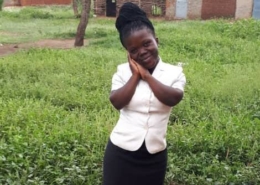 My Journey to Permanent Employment at Kasese Local Government
I am Muhumbira Dina, a lady living with dwarfism which most of you know as a little person staying in Ntinda and my home district is Kasese. I have a diploma in Gender and Social Development from Bugema University. I have been job hunting since 2013, and have so far done 5 interviews and failed 4. Basing on my previous experience, must have been failing interviews because of the way I presented myself, i.e. I was full of fear when it came to going for interviews, I would even shiver making me not to answer the questions well.
I got a call from UNAPD in August 2018 about the ongoing Waged Employment Project implemented by UNAPD in partnership with Cheshire Services Uganda and I was asked if I was interested to be a beneficiary. My details were taken by UNAPD staff (Ms. Miriam Ademun) and I enrolled in the project. I was later called for a training that was conducted in Renata Hotel in Bwaise. Reluctantly, I attended it and assumed it's like one of the so many meetings organized for PWDs. On reaching the venue, I saw that there were many people with different disabilities which was also good for socialization. During the training, I was personally able to learn how to write a professional Curriculum Vitae, Application and motivational letter. I liked how the training was conducted because practical examples of a good CV were given and every part of the CV was discussed.
All the participants were tasked to come up with an application for a job advert that was flashed on the projector screen. This kind of engagement helped me be able to acquire fresh knowledge, internalize what was trained and coming up with a good application letter. It was a real learning point for me, my self-esteem and confidence improved because some of the topics discussed were on how to improve on someone's self-esteem and building confidence, among others. I also very much liked the way Ms. Miriam Ademun (facilitator) emphasized on "liking yourself the way you are", this helped me to speak to my inner self, there and then, I felt good about myself.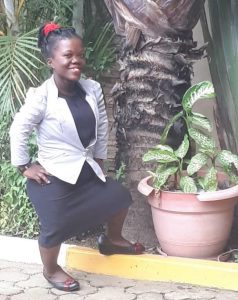 In January, 2019, the post of 30 Parish Chiefs was advertised by Kasese Local Government and I applied casually without much hope. Luckily for me, I was called for interviews. We were 750 total applicants, 360 were called for written interviews, 196 were short listed for oral interviews and 30 of us were called with congratulatory messages. I was so excited and I knew this was my turning point. I have my appointment letter as the Parish Chief of Kikorongo Parish, in Lake Katwe Sub-County, Kasese Local Government and am excited to start work since it is in line with what I learnt at the university. My only request is that I will continue to reach out to UNAPD for continued support in being able to perform well at my job. I still need to learn skills in documentation i.e. writing reports, coming up with work plans. On this note, allow me extend my sincere appreciation and thanks to Uganda National Action on Physical Disability (UNAPD) Cheshire Services Uganda (CSU), Leonard Cheshire Disability (LCD) and the National Community Lottery Fund (NCLF) for the financial support for the waged employment project