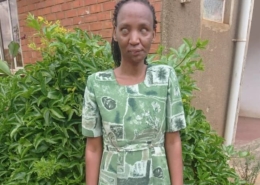 "My Visual Impairment did not stop me from becoming a Community Development Officer of Masaka District Local Government"
My name is Namukasa Amina, a graduate with Community Based Rehabilitation from Kyambogo University and studied as a private student. I want from the start to send my sincere appreciation to my uncle who supported my studies until completion. My life at the university as a girl living with Visual Impairment was a humble one and easily made friends because of my social skills. I remember having a guide whom I paid 100,000/= per month after negotiating from 300,000/=. However, I faced some hardships especially when it came to taking notes to UNAB for embossing (transcribing to braille) where each page costed 500/=.
Besides that, my life at Campus was fun, liked eating out with my friends. Most of the boys who wanted to date me and take advantage of me but sometimes be embarrassed to walk with me as their friend. I was a sharp student, would be very careful of such boy students not to use me, would always protect myself and let go before getting into more complex situations.
I completed in 2018 and thereafter my life became harder , could not even buy sanitary towel, airtime because the financial support stopped. The end of an academic career led me into my journey to look for employment. In around August, 2018, received a phone call from a Uganda National Action on Physical Disability (UNAPD) about being enrolled for Waged Employment Project.
I was taken through a needs assessment exercise by UNAPD staff (Ms. Miriam Ademun) in which was asked questions and later qualified to be a beneficiary of the project. I was later requested to send my CV and thereafter was called for a training. The training was so beneficial to me and other participants in general in that improved my self-esteem and confidence, learnt how to face interview panels, present myself when going for interviews and how to rightfully answer interview questions. In June, 2019, there was an advert for the post of community development officer (CDO) by Masaka Local Government. I used the knowledge and skills acquired in the project to write an application letter and CV with the support of UNAPD staff (Ms. Miriam Ademun), and later was called for oral interviews by Masaka Local Government. It was my first interview and exceled as the best candidate and as I talk now soon starting to work on 1st July, 2019 as the Community